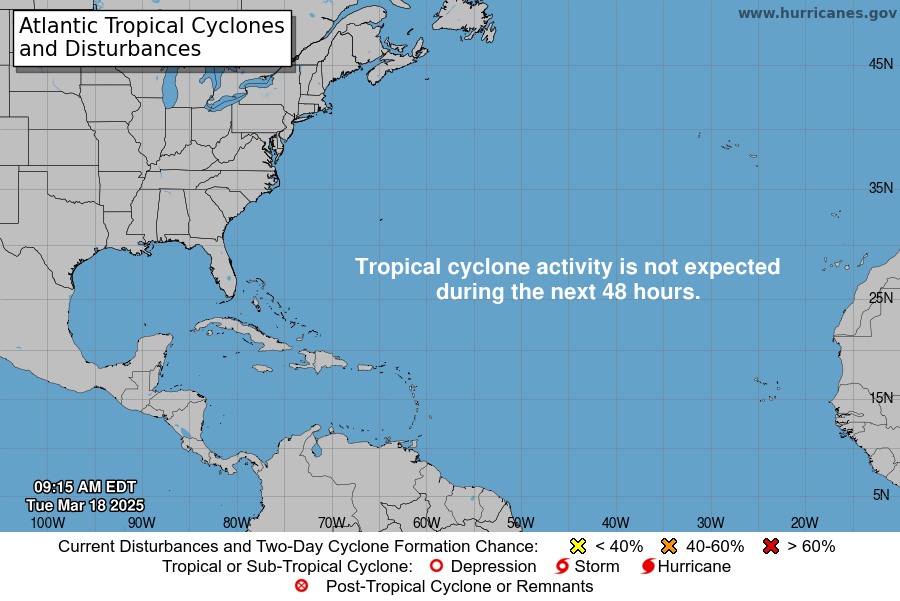 There are no tropical cyclones near the Virgin Islands at this time. 
Click to view forecasts and analysis from the National Hurricane Center. 
Announcements 
UVI's Sheen Campus Employees & Students Invited to 'Conversations with the President' Sept. 29


UVI President David Hall invites the University's employees and students on the Albert A. Sheen Campus on St. Croix to the UVI Cafeteria on Friday, Sept. 29. Dr. Hall will tour the damage left by Hurricanes Irma and Maria and sit down with employees and students on the Sheen Campus.  Dr. Hall will meet with UVI faculty and staff at 1 p.m. and then at 3 p.m. with UVI students. Both meetings will be held in the Cafeteria. President Hall will discuss a wide range of topics to include efforts to reopen the campus and a timeline for restoring classes. Students and employees are encouraged to attend. For more information, please visit the Business Office on the Sheen Campus. 
Students Interested in Residing on STT Campus Asked to Contact Student Housing & Residence Life


 In the wake of Hurricanes Irma and Maria, Student Housing and Residence Life is going through the process of assessing housing needs. Student residents are kindly asked to complete
this form
to indicate whether they would like to return to campus or not. See this link to the
Intent to Return Form
. If there are any questions you may have, please call (340) 693-1110. This form is to be completed by all on campus residents on the St. Thomas Campus only. All students will be accommodated.  
UVI Post Maria Update and Plan 
Dear UVI Students and Employees:                               
It is with deep gratitude that I write to indicate that all University students and employees, of whom we are aware, are safe after enduring two category 5 hurricanes. Our campuses have been seriously affected by both Irma and Maria, and our dedicated staff members have been stretched to the limits. As a result of Hurricane Maria, we have adjusted our previous timeframes for resuming classes on St. Thomas and continuing classes on St. Croix. However, the University is still committed to saving this semester and holding all students harmless from these dual tragedies.
Hurricane Maria has interrupted ongoing classes and operations on the Albert A. Sheen campus on St. Croix, and slowed the recovery on the St. Thomas campus. The 63 students who endured the hurricane on the St. Croix campus are safe, but our communication and internet systems have been disrupted. Though some classroom buildings have been damaged, we anticipate that all of the facilities will be cleaned and restored for operations in two weeks (approximately October 9th). We hope that some classes may resume even sooner, depending on the restoration of permanent power and internet communications.
The resumption of classes on St. Thomas is scheduled for the same time frame, but some classes will be ready to move forward even sooner. In addition, under the leadership of Provost McKayle and the Deans of Student Affairs on both campuses, the University will offer numerous academic and non-academic opportunities for resident and commuter students starting this week. A list of all activities, services and meetings will be distributed by the end of the day on Monday, September 25th. I encourage students, especially those living on campus, to take full advantage of these programs.   
The University will communicate the new class schedule and the complete academic plan to all students, faculty and staff prior to the recommencement of classes. Though the Territory's normal communication infrastructure has been compromised, we will make sure to use all available forms of existing communication to reach students and employees. Please check the University's website (www.uvi.edu) and listen to the various local radio stations for announcements. In regards to all academic questions, we encourage students to email at academics@uvi.edu.  If students choose to withdraw they will be permitted to do so. If you are considering withdrawing, or have questions, you must first contact Wendy Fedler, Center for Student Success, via email academics@uvi.edu.       
No University has faced what UVI has encountered in the last two weeks. We could not have imagined that our two beautiful campuses would be severely harmed by two catastrophic events that attempted to take away the dreams of our students. Yet it is in the face of unimaginable destructions and challenges that we must imagine a future that embraces and exceeds our dreams. UVI will not only rise again, but it will be more creative, profound, resilient and prosperous than it was before, or than we ever imagined.
I personally ask for your patience and understanding as we strive to recommence this semester under very challenging circumstances. Our working and living conditions have changed dramatically, but our internal will, collective care for each other and our institutional pride remain unshaken. We will celebrate this victory together and broad smiles of triumph will return to all of our faces.
Sincerely,
David Hall
Announcements:
 Employee Work Schedule - Sept. 25-29

The University of the Virgin Islands is requiring all employees (except essential employees)  who work on the St. Thomas campus to report to work during the week of September 25-29, 2017 consistent with existing curfew hours, but for a minimum of 4 hours each day. Please coordinate the exact hours with your immediate supervisor. The University's goal is to provide time for employees to address their personal and family needs as they fulfil their work responsibilities. Employees whose offices cannot be occupied due to the effects of the hurricanes should report to the Human Resources Department for assignments of tasks that are needed to fully reopen the University.  All essential employees should report to work for normal hours and provisions will be made for them to address personal and family needs.
St. Croix employees should report to work on Wednesday, September 27th and make sure to wear appropriate footwear since there is still water and debris on campus.  All St. Croix essential employees should report on Monday, September 25th for normal working hours. Provisions will be made for them to take care of personal and family needs.
Employees on both campus are asked to come to work ready to participate in the recovery and clean- up process under the guidance of our Physical Plant employees. UVI will rise again because of the dedicated individuals who work at the University. Your cooperation and flexibility are deeply appreciated during these challenging times. Let us together restore our campuses and reclaim our dreams.  
UVI uses several systems to keep members of the University community informed during emergency situations.